The commission desk is open. I will draw things for you at your request. The prices listed here are base prices for a drawing of one or two of my own characters in a tame situation with normal costumes and a simple background. I can draw your characters, fancy costumes, detailed backgrounds, etc. but the cost may go up depending on complexity of your request.
Web Icons - $10
This is the cheapest thing on my list. I will make a 100 x 100 pixel avatar icon in full flat "cartoon" color for just ten bucks. You don't get any originals on paper, just the icon in gif or jpeg format sent to your email. Specify which format you prefer or I will pick the most efficient one for the image. I can also make animated gifs but that will cost more. Obviously icons have to be PG rated / SFW.
Pencil Sketches - $25
These are done on 8 1/2 x 11 white copy bond with #2 graphite pencil. Base rate is $25 for a pencil sketch: 2 of my own characters, nude or clothed in simple garments in a basic, low-detail environment. Adding more complexity means the price will go up.
Inked Drawings - $50
Done on 8.5 x 11 white copy bond, just like the Full-Size Sketch, except underdrawing will be done with non-photo blue pencil and then inked over. Base rate is $50. Same content limitations as the sketch.
Factors That Increase Price
More than two characters.
Specific and detailed costume, props or setting for which I will have to study visual references. I have to charge for the extra time this takes.
Another person's character which I will need reference sheets and practice to learn to draw properly. I have to charge for the extra time this takes, too. You also have to have the character owner's permission to use them. No fan art of corporate-owned characters will be allowed.
Porn. Nudity is one thing, but if you want something naughtier you will have to pay extra for it. Tame is preferable; the more hardcore your request, the more likely I will say "no." Also keep in mind: I like drawing women. I don't like drawing men. You must state your age when requesting overtly erotic material. PayPal's rules state that "adult" material must be in the form of tangible merchandise, not digital files - so if you use PayPal to pay for naughty drawings, I have to mail you the original art on paper. If you only want a scan emailed to you, then I'm sorry but I can't sell you porn in that format.
Requesting approval of sketches. Some clients want to see preliminary art before the project is finished, so they can make corrections mid-stream. I appreciate this, but it means extra work for me since I have to stop, scan the pencils, send them to you, wait for your response, and then make the appropriate changes. I will tack a few bucks onto the price for this service. Just letting you know.
Actual Commission Examples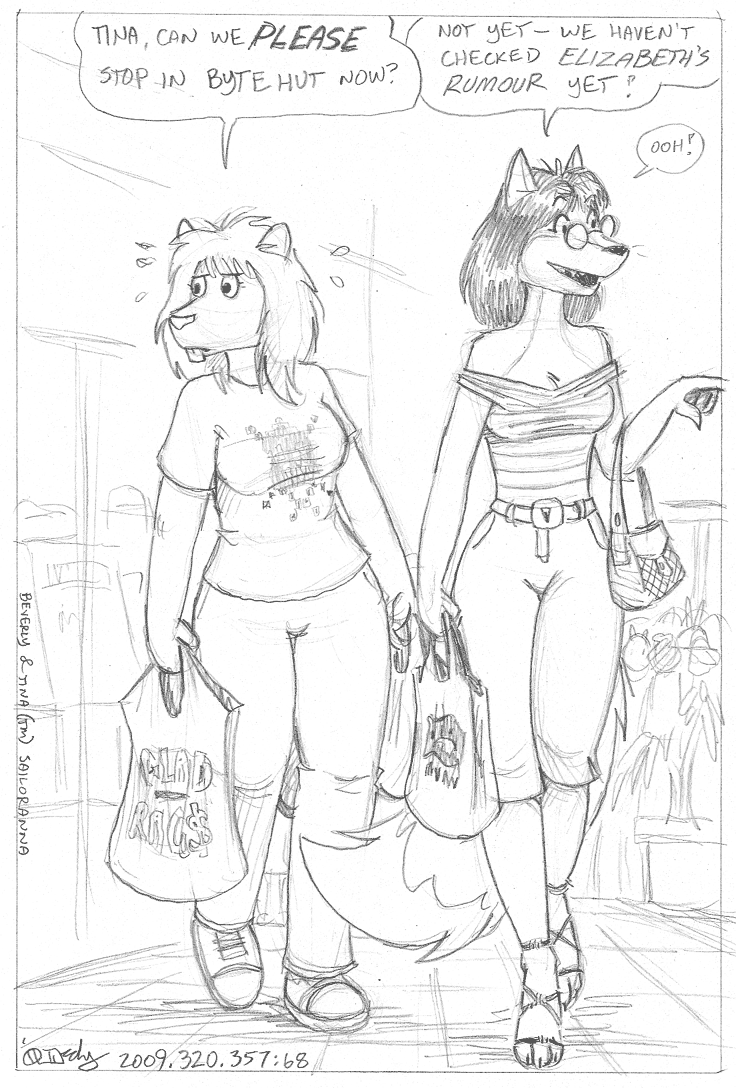 This is a scan of a pencil sketch commission. With my current pricing scale, this would cost $30 ... my base rate plus $5 for having to draw somebody else's characters. The designs were not too outlandish, the costumes and setting very easy, so no extra charges for that.
---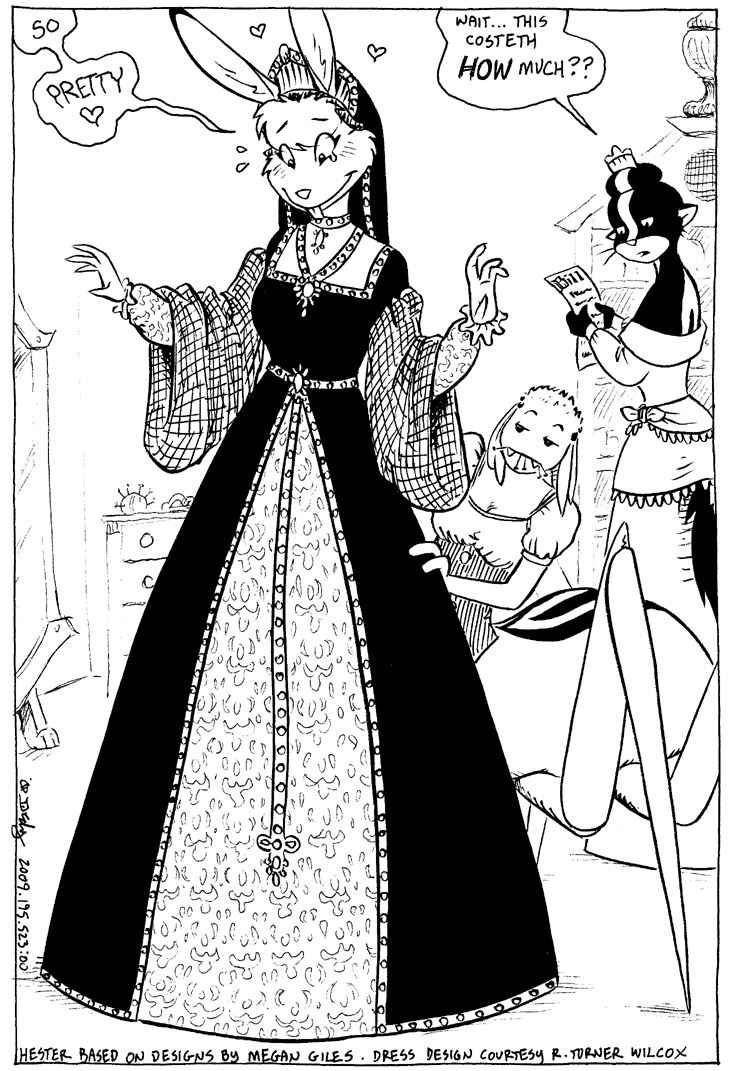 An inked drawing. This one has three of my own characters, but look at that crazy detail on the dress! It was $60 because I spent some time finding a reference for a good-looking dress from the right time period, and then a long time drawing it.
Let's Make a Deal
Write to drphlog@hotmail.com (with "Commission Request" in the subject line so I don't delete it as SPAM.) Do not send money before you have discussed your commission with me. Tell me what you'd like me to draw and I will tell you if I can do it, and how much it will cost. We also have to make sure we can use PayPal or figure out a different payment method, depending on the nature of your request. Once we have negotiated a price to our mutual satisfaction, I will start drawing, and you can pay me any time thereafter. It's important to get the details ironed out at the beginning so I know what I'm doing and you know what you're paying for.
Payment In Advance
Although I may start drawing as soon as the request is finalized and the price agreed to, I do not ship the finished art until I receive payment. You get your artwork AFTER I get my money. I won't rip you off; I have to maintain a professional reputation.
Changing Your Mind
I recommend that you have your commission idea completely thought-out before agreeing to a final price. Once I have started work, my time is non-refundable. If you suddenly decide you want something different than what we agreed on, you will have to pay a "kill fee" which could be part or all of the price of the original commission (depending how much work I have done on it.) A new price will have to be negotiated for the new commission, and you will be sent both the aborted piece and the final piece (since you will be paying for both of them.)
I Retain Rights
Sale of the artwork does not include reproduction rights. I reserve my privilege to post the artwork to my personal galleries or submit it for publication. You do not have the right to copy, distribute, or sell the artwork except in the following situations: You may post a scan onto your personal website or image gallery. You may sell the original artwork to someone else; the same stipulations will apply to the new owner.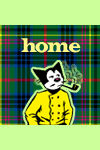 ---
Contents copyright 1994-2013 by JW Kennedy.