Sigh... I knew this moment would come. You've decided to leave my site, awesome though it is, and go traipsing off into the aether. I can't stop you; I can only point you in some promising directions. What you ultimately find is entirely up to you. Just remember the owl's words of wisdom to the nightingale:

Links to Musical Things
Cartoon Related Links
Links to Writing
Mark of the Damned is a movie I co-wrote and acted in, and helped produce. It took 10 years and cost less than $15,000 but it actually looks pretty cool. It's got vampires, luchadores, mummies, mad scientists, kung-fu robots, jet pack cowboys, magicians, lurking horrors from another dimension, alien cyborgs ... in short, everything that makes a movie awesome is in Mark of the Damned. We shot without synchronous sound and dubbed the soundtrack in later for that foreign language feel of an old Mexican Santo movie. A unique viewing experience.
Dover Publications has been my favorite publishing house ever since I first started ordering things from them over 15 years ago. They reprint old books on every subject imaginable. The Dover Pictorial Archive is one of the best clip art sources in the world. Dover books are well-bound, affordable, and made in the USA. Check 'em out; they are awesome.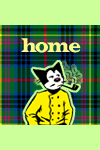 ---
Contents copyright 1994-2009 by JW Kennedy.